The shopping bug is hitting me hard today. I've been pretty good, shopping wise, lately, and I feel like that good streak is about to break. I've also realized I need to replenish a few basic items, because I seem to have left a few necessities at home. Le sigh. Can I become magically rich please? (I know, I know, join the club.)
Anyways, here's what I wore to present my senior honors thesis project at the Student Research Conference yesterday.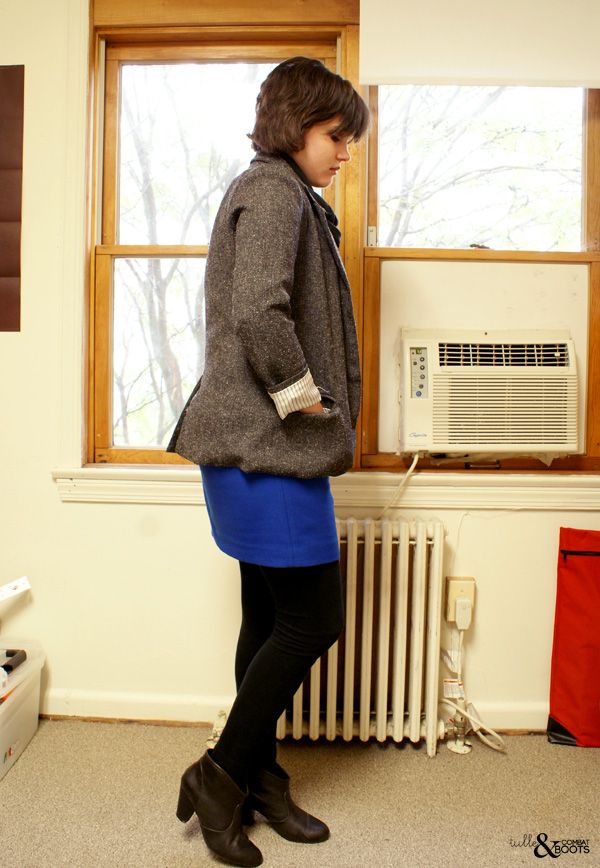 I'm wearing:
Blazer: Urban Outfitters
Scarf: Urban Outfitters
Dress: Ann Taylor, gift
Tights: Target
Shoes: DSW
Bag: Parcel by Loop via eBay
Necklace: made by me
Well, when I say I made that necklace, I really mean I just put together two random elements I had: one earring (the pendant) that didn't have a mate and a chain that didn't have a pendant. Instant pendant necklace!
I scored this bag on eBay yeaaaars ago and just recently dragged it out of my closet when I remembered how awesome it is! Neon splashes on a grayscale screenprint? I approve.
Oh, and for those of you in the DC/Northern Virginia area this weekend (who are also trying to avoid the shopping bug),
DewdropDC is hosting another wonderful swap
! I unfortunately won't be able to make it since I'll be on an apartment hunting extravaganza, but I encourage everyone in the area to go! It's a great event, I'm so glad they decided to do another one!
Have a great end of the week!