Hello lovelies! Sorry for the quiet on here lately, it's been yet another hectic week.
This past weekend I went to the Georgetown LOFT Grand Opening sponsored by Lucky Magazine &
A Lacey Perspective
(and took my friend Katie with me!). It was a really nice event, complete with mini cupcakes from Georgetown Cupcake! I didn't buy anything (I was being good), but I did love looking at all the clothes. And of course I styled a look & was photographed!
Here is my look: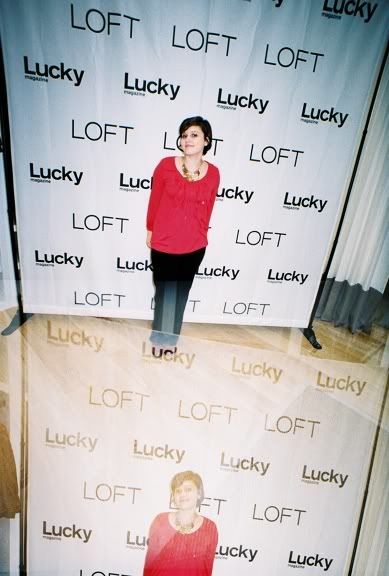 Image courtesy of Georgetown LOFT & Lomography.
Very different from my usual, right?
And some photos I took of the event:
1. Lovely store setup. 2. They had a DJ in the store window! A really good DJ, too.
3. Miscellaneous pretty accessories. 4. Mini cupcakes! I love me some cupcakes.
7. Some lovely merchandise. 8. The photo area.
And now, outfit photos! Taken by my friend Katie, as we were walking across the Key Bridge.
Obligatory silly picture.
Scarf: Urban Outfitters
Shirt: don't remember, haha.
Jeans: Wet Seal
Oxfords: Frye (gift)
Bag: the Kills concert
Necklace: vendor at the Renaissance Festival
Also, can we talk about how obsessed I am with the color red? I think it's my fall color. I can't get enough of it lately. I'm so glad I got this jacket, it's perfect (and it was only $19)!
Tomorrow's Friday!!! Yaaay! I'm so excited because my boyfriend and I are going to my house for the weekend, and there are many mini adventures to be had! And I'm getting a new phone (finally! not telling what kind yet though!). And I get to see my cats, which will probably be one of the highlights of my weekend. (Me, crazy cat lady? Naaah.)
Have a great day!