Happy first day of Spring! Now here's Friday's outfit! After our slightly epic
trip to the printer
, I had my fellow graphic design major, photographer, and friend Kay of
Kay Photography
take a few street-style-esque photos for me. They came out amazing (as pretty much all of Kay's photos do! The dude is awesome), except for me making weird faces. Blerg.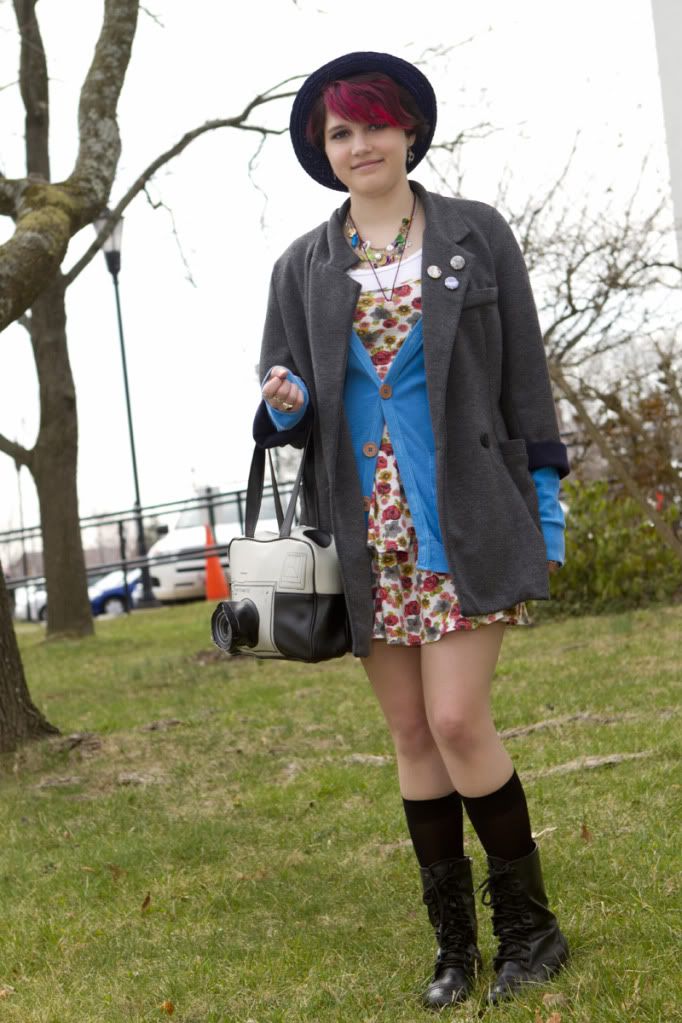 Photo by Kay Photography
Layers for the chilly morning.
Jacket: Primark
Bag: Paul Frank from Fred Flare
Other details below.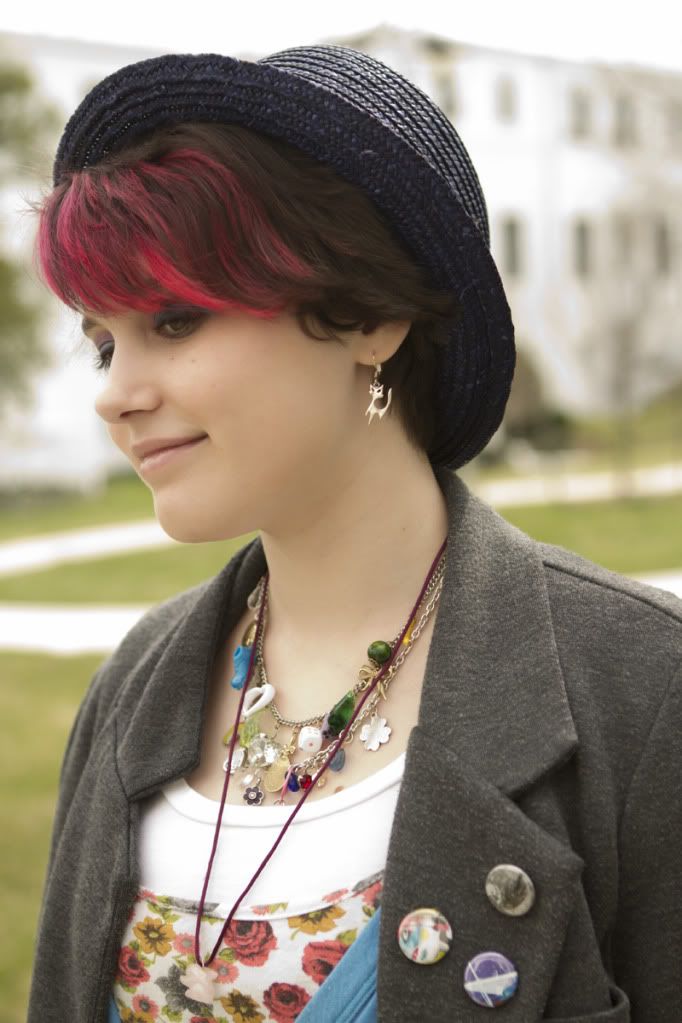 Photo by Kay Photography
Earrings: gift
Necklaces: UO, handmade/DIY, Smithsonian
Pins/buttons: DIY c/o Graphic Design Club
Hat: BDG/Urban Outfitters
More after the jump!
And of course later I took some more because I wanted some where I wasn't making a weird face, haha. And since it was a gorgeous day out, I went to the nearby park, did some sketching, and got a few good shots.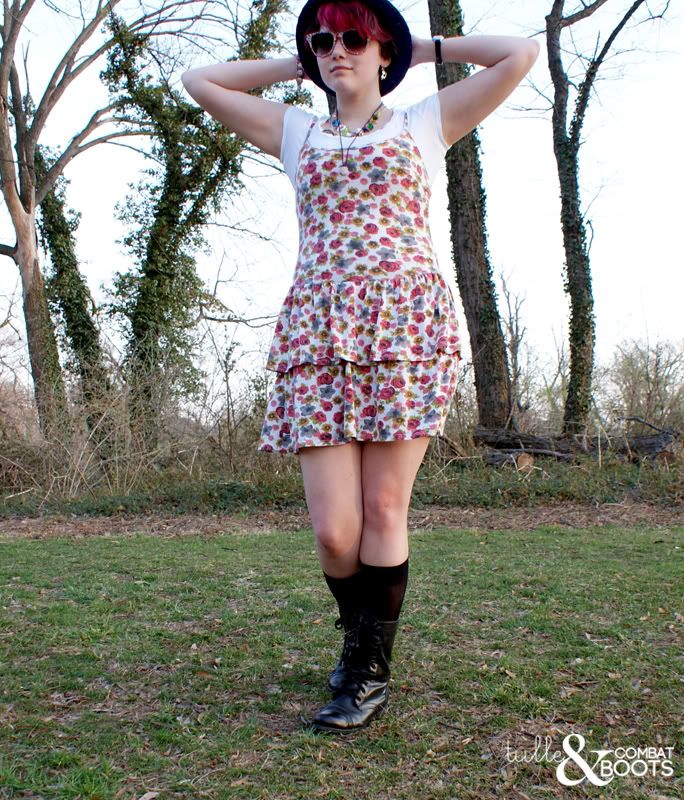 Hat: BDG/Urban Outfitters
Sunglasses: Urban Outfitters
T-shirt: Forever 21
Dress: Urban Outfitters
Socks: We Love Colors
Boots: shoe shop in Oxford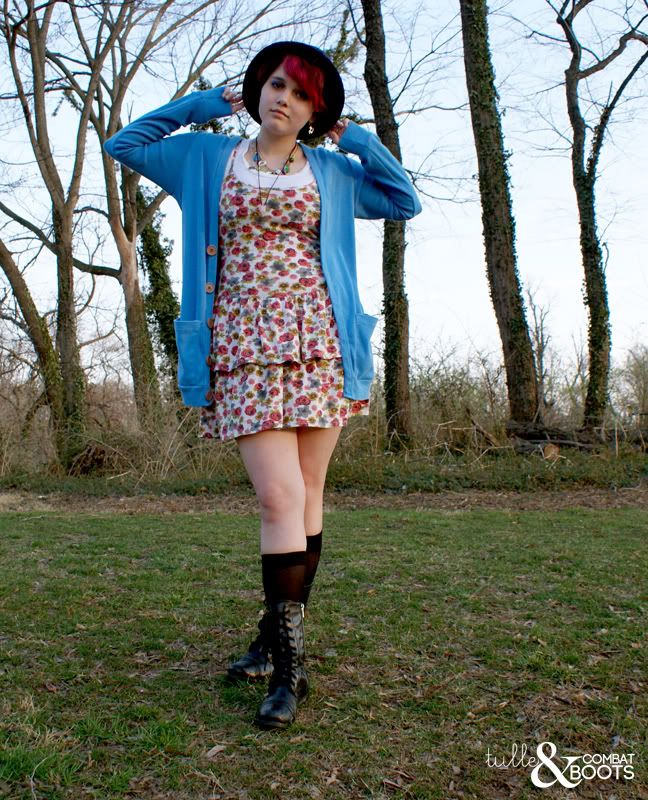 Cardigan: American Apparel
I'm pretty sure this is one of my favorite outfits. It's ridiculously hipster-ish and very me (my boyfriend calls me 'hipster', so it's appropriate). And I'm finally wearing my bright blue cardigan! For the longest time I didn't know what to wear it with and was about to give it to Goodwill but I decided to give it another chance.
Oh hey, detail shot: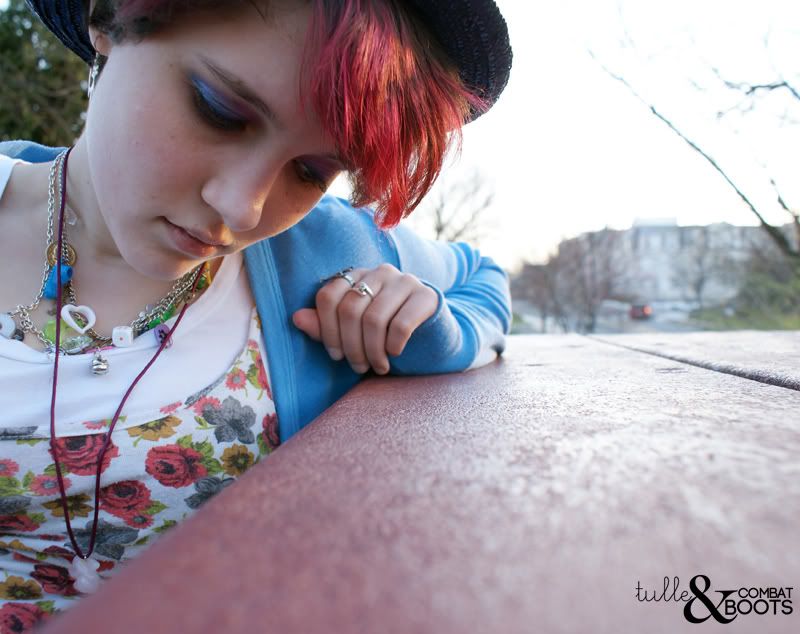 Makeup:
Urban Decay Eyeshadow in Haight
Urban Decay Eyeshadow in Radium
Urban Decay Loose Pigment in Asphyxia
Urban Decay Skyscraper Mascara
Benefit Some Kind-a Gorgeous Concealer/Foundation
This photo was mostly the result of me messing around with my camera, and I got a couple cool shots. My hair looks all sorts of different colors in this one (it's actually pink, btw), but at least you can see my eyeshadow! I know blue eyeshadow is so 80s/early 90s, but I feel if done correctly and with the right outfit, it can work. What do you guys think?
Also, welcome to all my new followers! I really appreciate it :) I now have a button you can grab to link back to the blog, in the sidebar on the
main page
!
Have a happy Monday, and a great start to the week!