Hello lovelies! How is everyone's week going? I'm so glad tomorrow's Friday, I am quite ready for some thrifting and time with my boyfriend. I'm finally getting around to posting a set of probably my favorite outfit photos that I've ever taken. For some reason, these just came out great. And it's one of my favorite outfits. I wore this to the first Friday of my first week of work, when they had a little welcome lunch for me. Everyone at work is so nice, which makes the desk job part of it much easier. Anyways, enough rambling.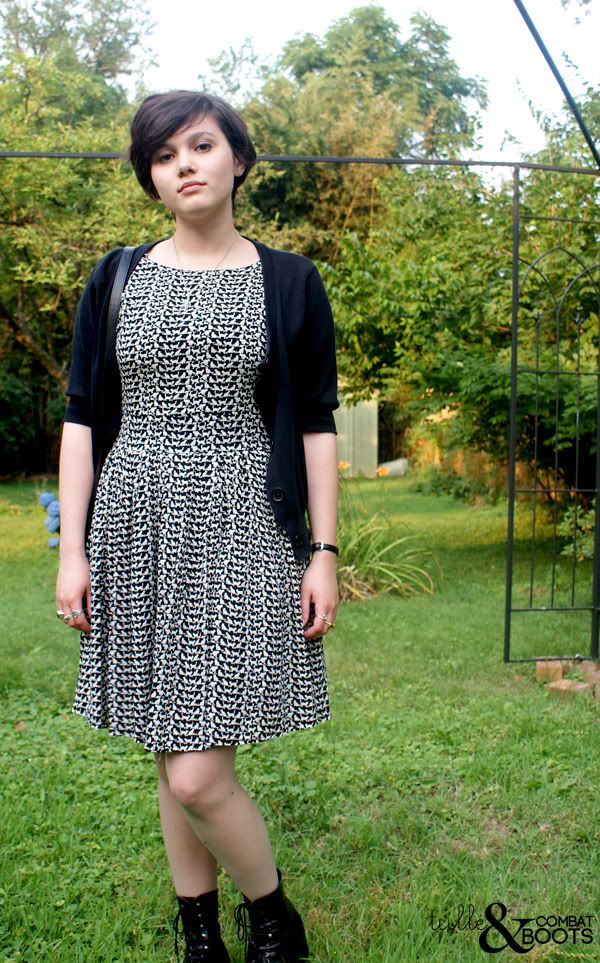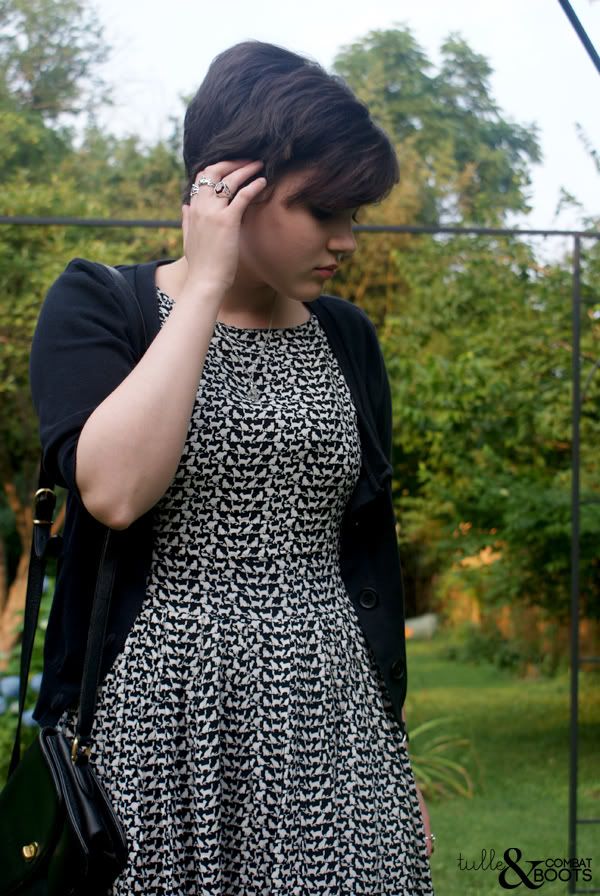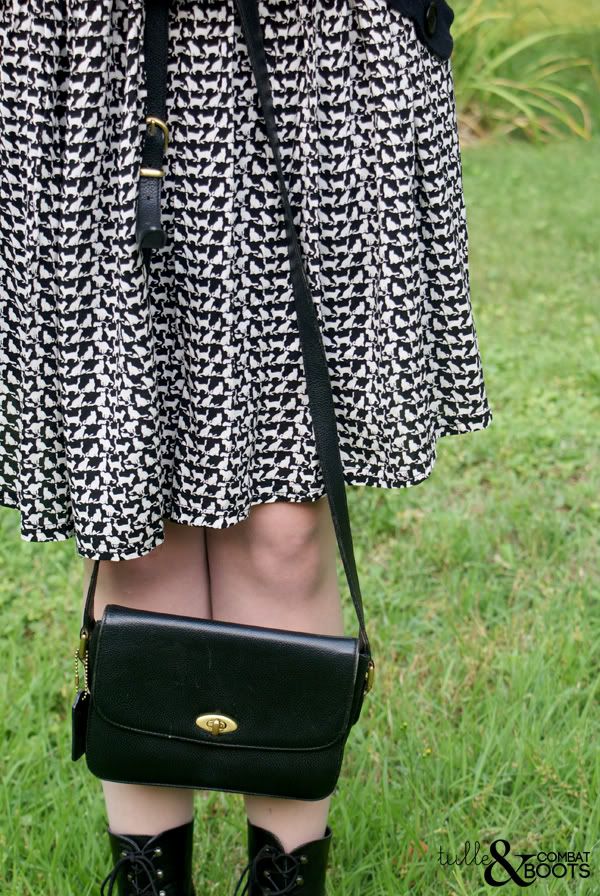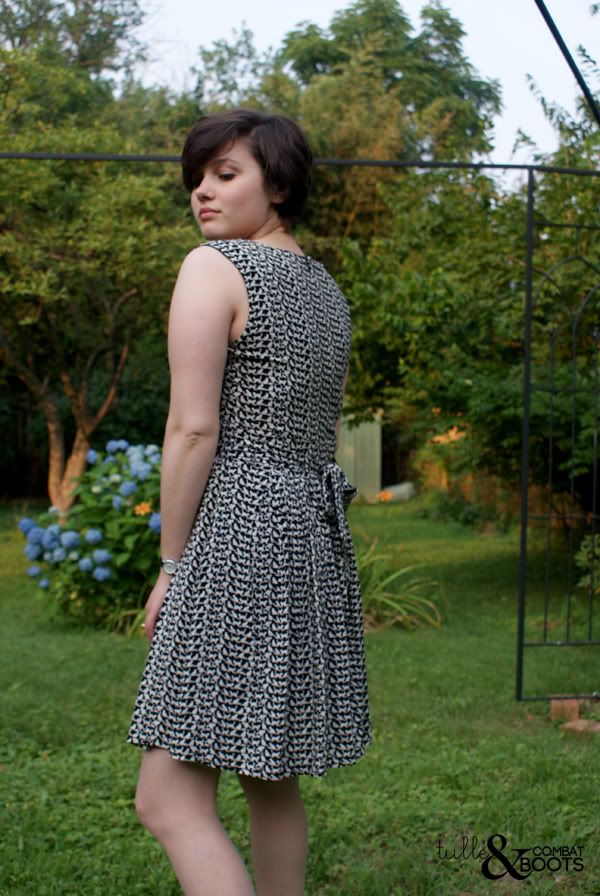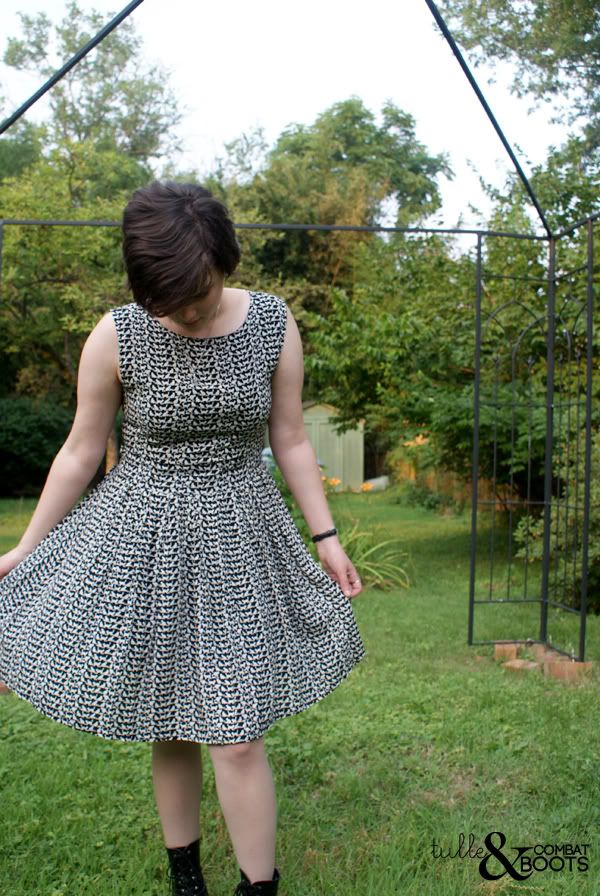 I'm wearing:
Cardigan: Delia's
Dress: Ravi Famous / Camden Markets, London
Shoes: vintage / Camden Markets, London
Purse: vintage Coach, from my mom
While wandering through the Camden market area in London, I happened upon this dress. I was looking for a cat print dress, and I instantly fell in love with this one. High neckline, full skirt, perfect length, bow tie in the back, and fits me perfectly! And it was only £15 (that's about $25)! And it's lined! I could go on about this dress for quite a while. The best part? It's work appropriate! I paired it with my new vintage boots that I also got in Camden, from a cute little shop called Berty & Gerty, and these also fit me perfectly! And I had been looking for a nice pair of (preferably vintage) heeled lace up boots. And ta-dah! These practically fell into my lap. The vintage Coach purse, too, fell into my lap. My mom was cleaning out her closet and said, "Hey, I don't use this much anymore, do you want it? It's vintage." So of course I said "UM YES!" and gladly accepted free, perfect condition vintage. I wish my mom had saved more of her clothes from the 80s (and even 90s), she has great taste in clothes.
The only downside to this whole ensemble–photos included–is that I was eaten alive by mosquitos while outside taking these photos. You win some & you lose some, eh? If only I had one of my cats with me in these photos, that would have totally made up for the mosquito bites.
So lovelies, ever had the perfect outfit fall into your lap?
Enjoy your weekend!